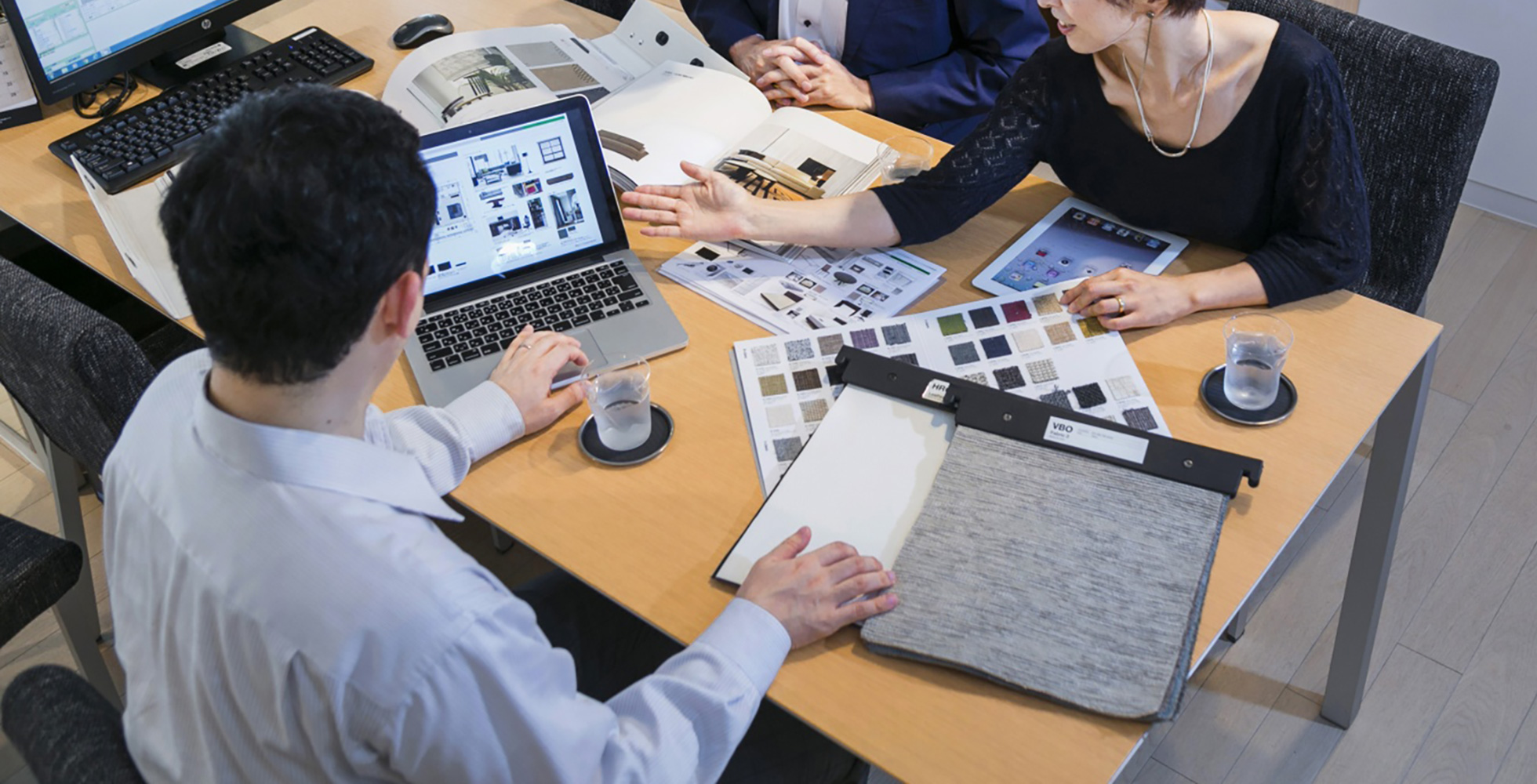 Why choose May's?
We explain the reasons why May's is chosen, through the coordination service that offers branded furniture on the "next level" at a great price, with an example of an actual customer case.
Amazing living space created by coordinating "good bargain" branded furniture
The combination of "amazing living space" proposed by May's and "value for money"
At May's, in order to provide customers using furniture with high-quality living space, we make it possible to achieve the high-quality lifestyle at a lower budget than when buying all new items. We offer end-of-lease branded furniture products on the "next level" that offer value for money and that may not otherwise be affordable as new items.
End-of-lease products are products that have been leased by other customers for a few years and then returned to us before being repaired/maintained by our professional specialist staff. Most of these items are "good bargains" in a good condition. In addition, we offer a large amount of furniture that has previously been used in a showroom, etc., and we are therefore able to offer these items at a more affordable price than purchasing new ones.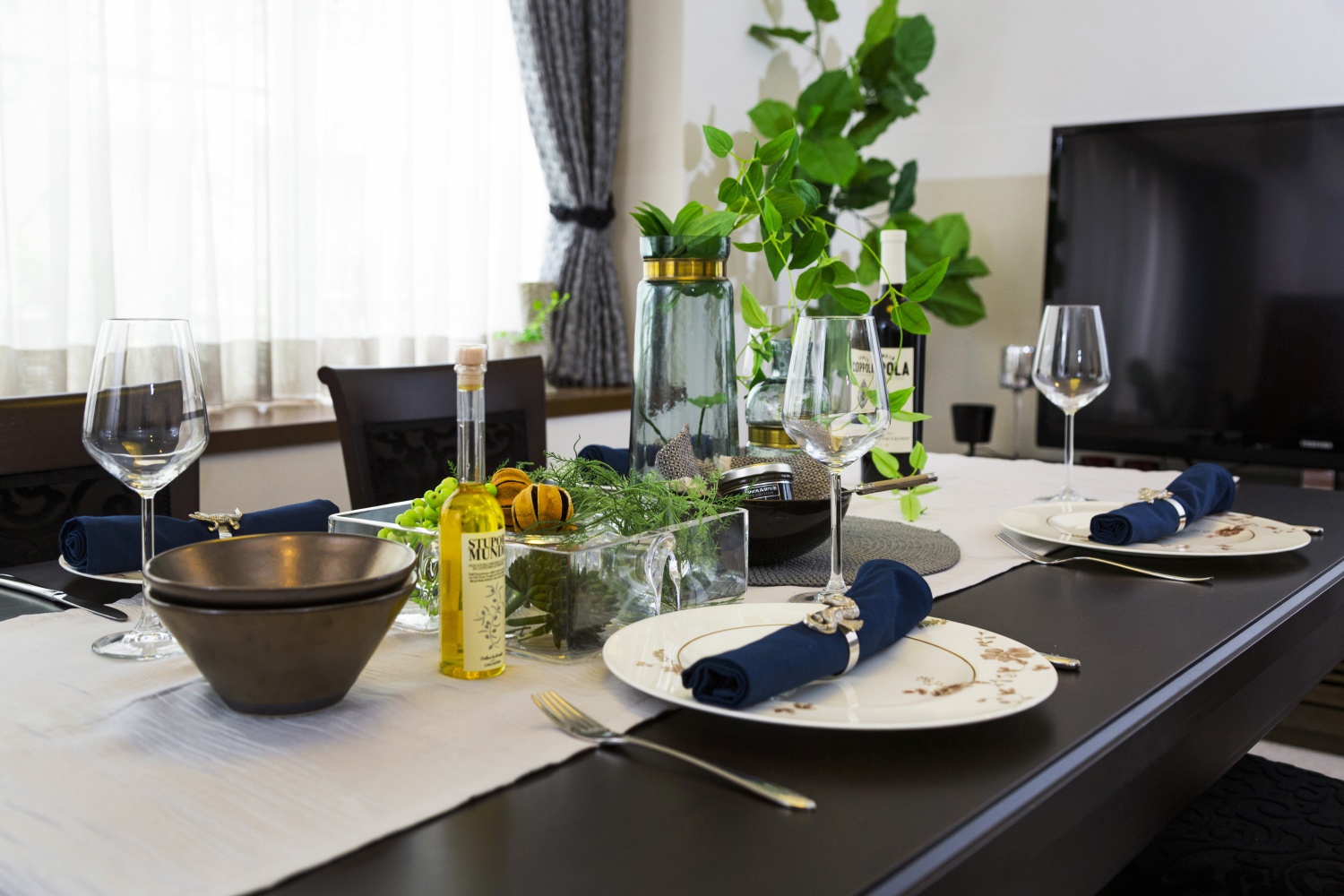 While a large amount of inexpensive furniture and interior goods are sold via mass merchandisers and the Internet etc., we focus on offering a wider variety of better-quality end-of-lease products, based on the voice of customers who are looking for long-term use of furniture with excellent durability and a design suitable for the size of their room and existing furniture. At the same time, we propose a combination of "amazing living space" and "value for money" by coordinating mainly with value items.
Example of a customer's purchase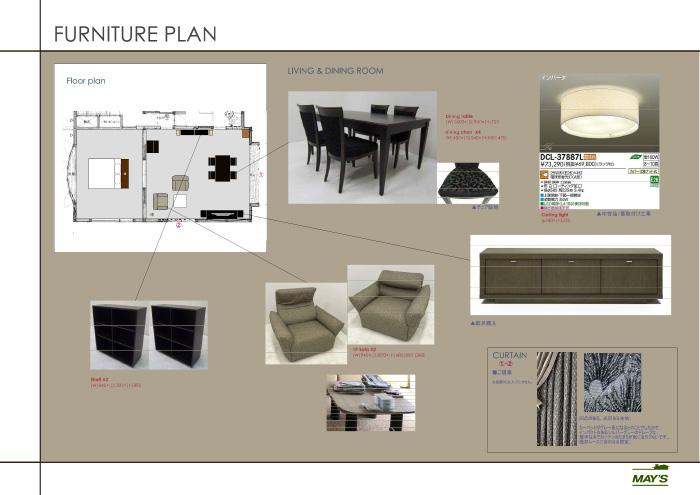 Let's look at an actual example to compare the costs of purchasing a set of furniture and interior fittings at May's and another shop.
This is an example of an actual coordination that combines new products for some items, including curtains, with end-of-lease products such as sofas, a dining set, and lighting fixtures. Even with a coordination centered around end-of-lease products, you are still able to create an amazing space just like a model room.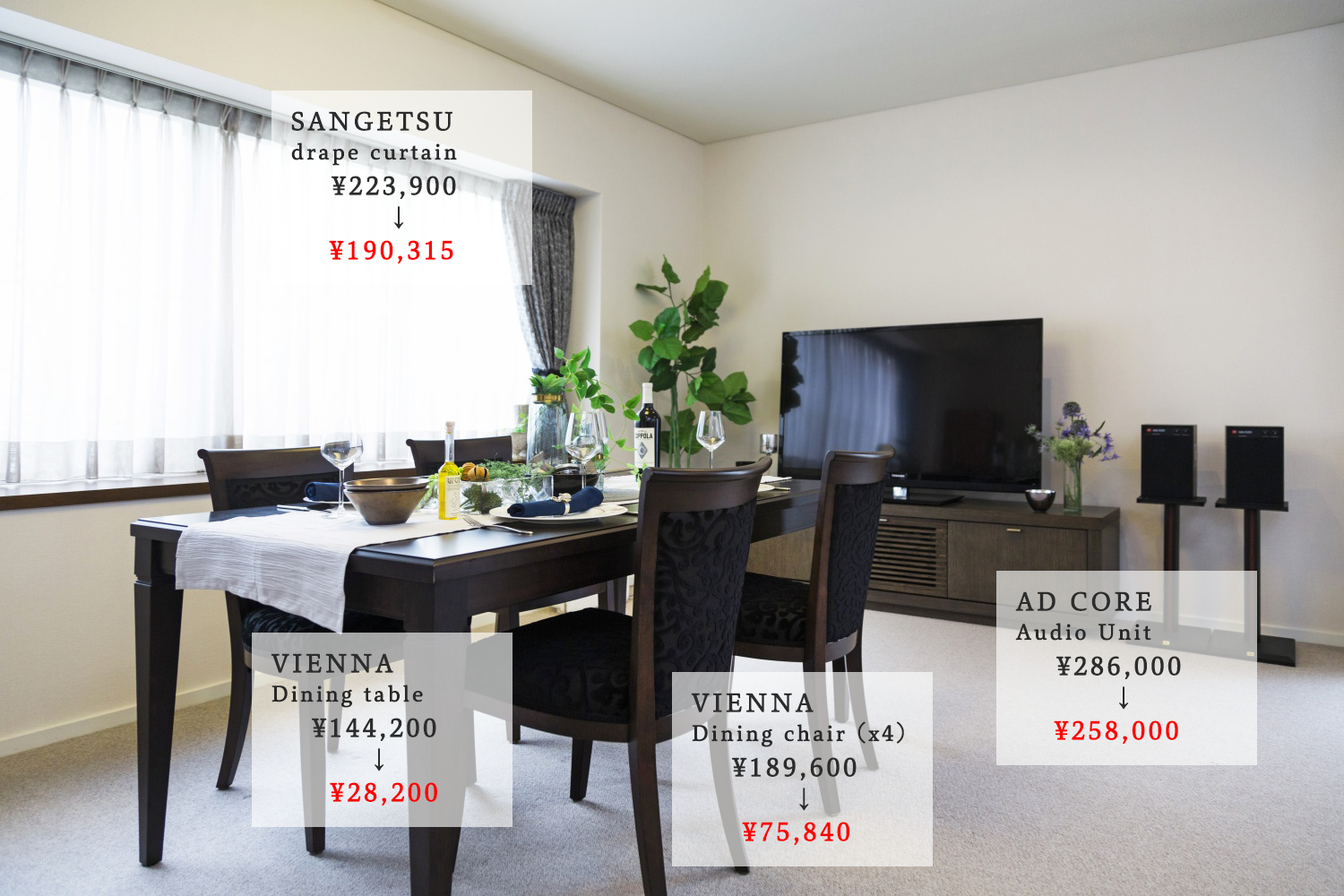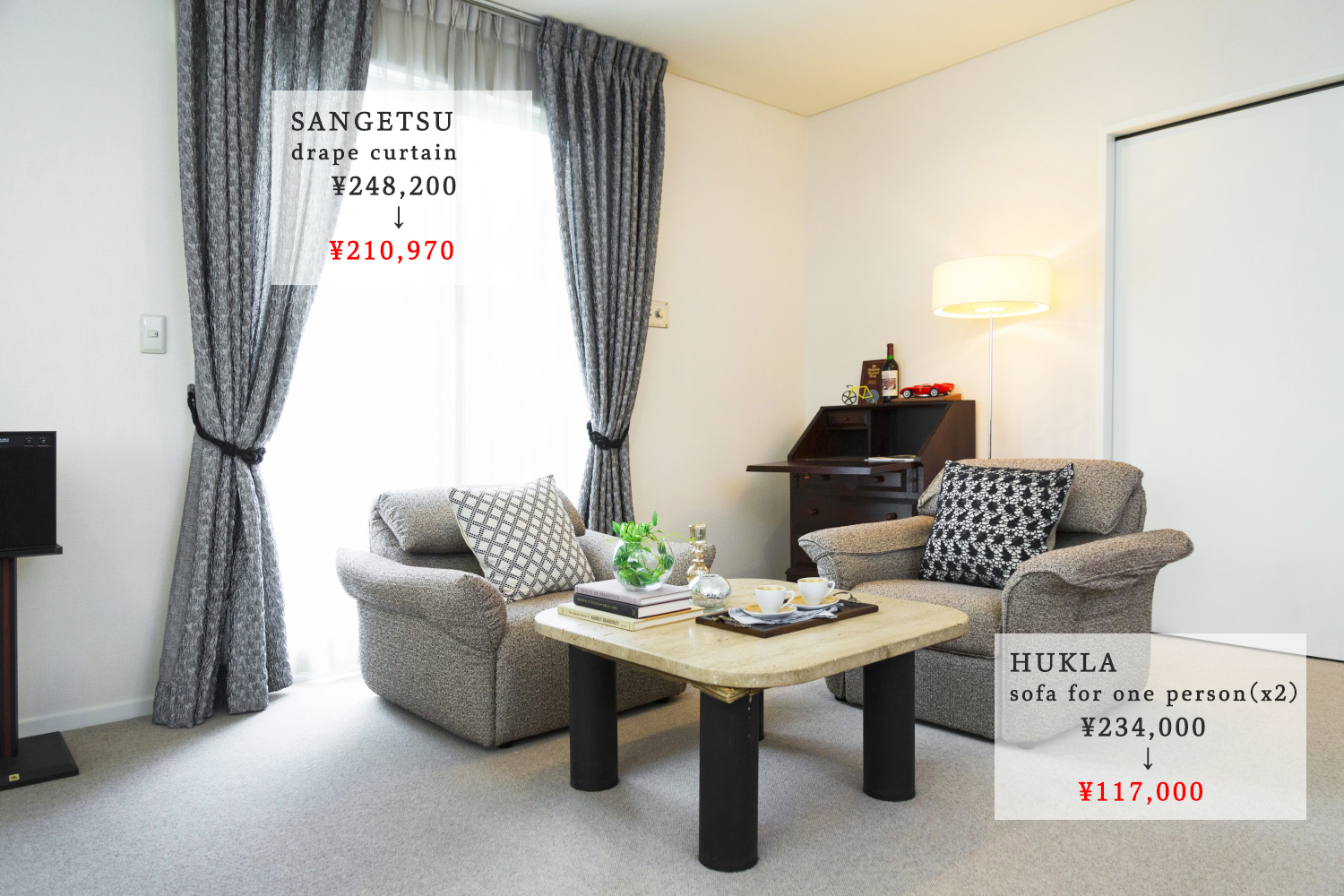 Coordination with mainly end-of-lease products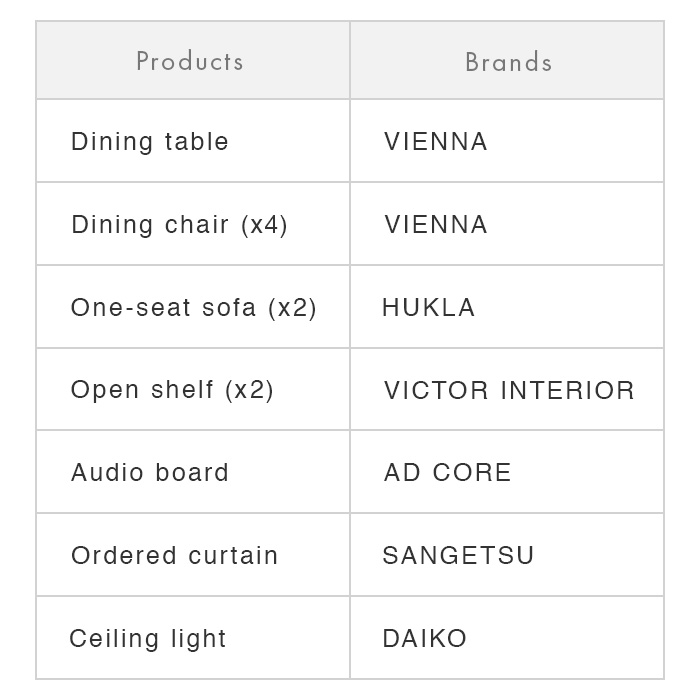 Purchase item list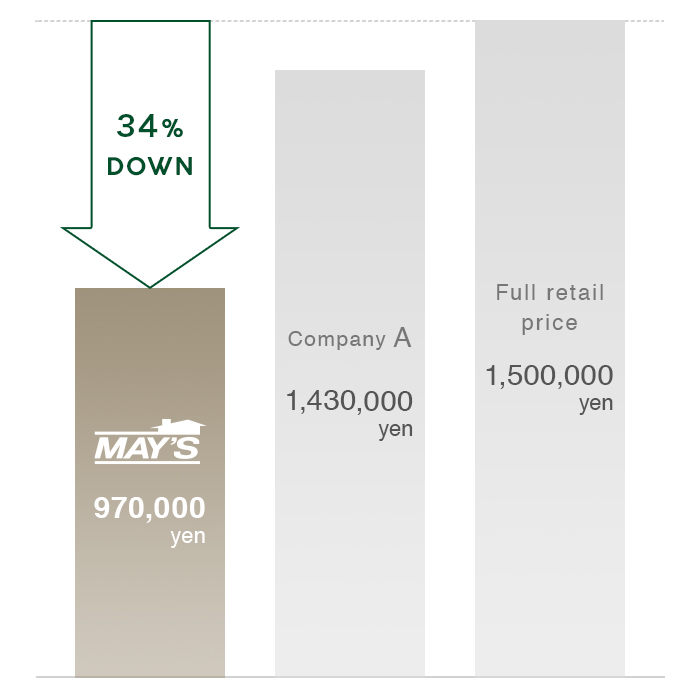 Comparison chart
For the coordination in this example, please also read the interview article on 03. Good example vol.1.
*The above is only an example of a product combination and therefore suggestions may vary depending on our inventory levels, etc. Please be aware of this beforehand. For further information, please contact us to discuss your request and budget, etc.
Customer's voice
━━ Could you please give us your honest opinions about your purchase this time?
Customer: When I bought a second home in the past, I still remember that I went to a mass-merchandise furniture and interior store myself to buy the necessary furniture. Mass merchandisers offer products at reasonable prices and at first sight it looks as though you are able to reduce the total cost, but in the end I spent more money after buying all the missing furniture.
They sell a lot of items, so I ended up buying unnecessary things, which are now covered in dust as I don't use them. However, for my purchase this time, I received a proposal for all the necessary furniture in advance, so I'm very satisfied as I was able to achieve a sense of unity for the whole room at around 2/3 of the usual cost.
━━ You mainly bought end-of-lease products, but did you feel any resistance to second-hand items?
Customer: Since I had never thought about buying any second-hand items other than vintage furniture, my initial thought was that end-of-lease products would be second-hand items in a bad condition. However, they are generally in a good condition so I have no problem living with them. In addition, they carefully explained about any scratches or dirt in the furniture in advance, which encouraged my purchase.
━━ It has become a nice room to which you would want to invite your friends. How do you plan to use it from now?
Customer: Since I have a variety of items displayed like a model room, I definitely want to invite people and show it to them. I'm also thinking about changing the coordination every season, and it feels as though I have another thing to look forward to in my life.