Customer Case Vol.1
We'll introduce one of the best examples of our interior coordination creating "a space with pleasant music" when the customer refurbished his house.
The concept was for classic, simple modern, utilizing the existing furniture.
Motive
━━ I would like to ask Mr. O. S. from Minato-ku about his recent experience of interior coordination. First of all, could you tell us what the motive was for your house renovation?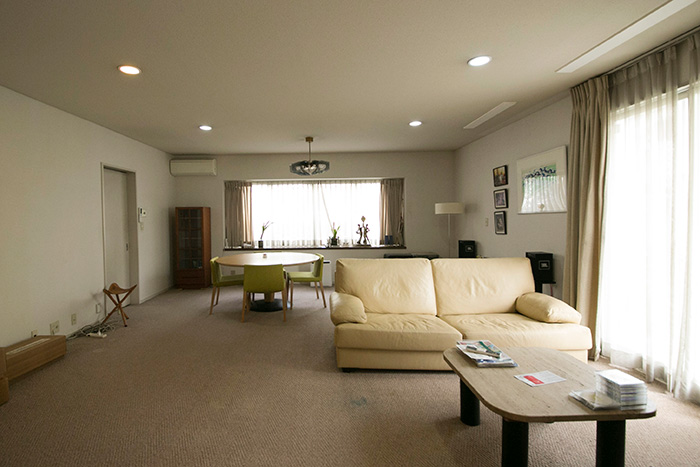 The living room before renovation
Mr. O.S.:I used to live with my wife and our four children as a big family, but now I live only with my wife as our children have left home. The family doesn't get together as often as before, and the way we use our house has changed. I run my own business and work more now using my laptop while watching TV or listening to music at home. This may be because I have an underlying wish to lead an active life while looking through different information sources, rather than just relaxing on the sofa.
With such a change in the family environment, I decided to refurbish our two-story house to create a greater distinction between the first and second floors. In addition, I wanted to make the room that was used as a living room more suitable for our lifestyle.
━━ How did you decide to use May's interior coordination service?
Mr. O.S.: I have recently bought a range of audio equipment and have been absorbed in listening to music, which has been my hobby for some time. When I started considering a renovation with the concept of "a space with pleasant music," I saw some examples of thematic interior coordination on May's website. I thought this was the kind of thing I was looking for and so met with May's interior decorator.
━━ So due to the changes in your own lifestyle, you came to the realization of creating your particular space.
About Coordination
━━ When you were given a difficult task of creating "a space with pleasant music," what did you have in mind for coordinating the furniture?
May's Interior decorator: To start off this coordination, I first asked the customer about their need, and I was requested to keep some of their existing furniture, such as a writing bureau, marble stone table, cabinet, and so on. Since these pieces of furniture were in a traditional style, I thought about a coordination featuring a combination of classic and simple modern. The overall coordination style may be described as "classic, simple modern."
When I first visited their house, the room had a slightly dark impression, so I wanted to change the whole color scheme by using materials with a shiny feeling in the patterns for the curtains and dining chairs while also taking advantage of the colors of their existing vintage furniture.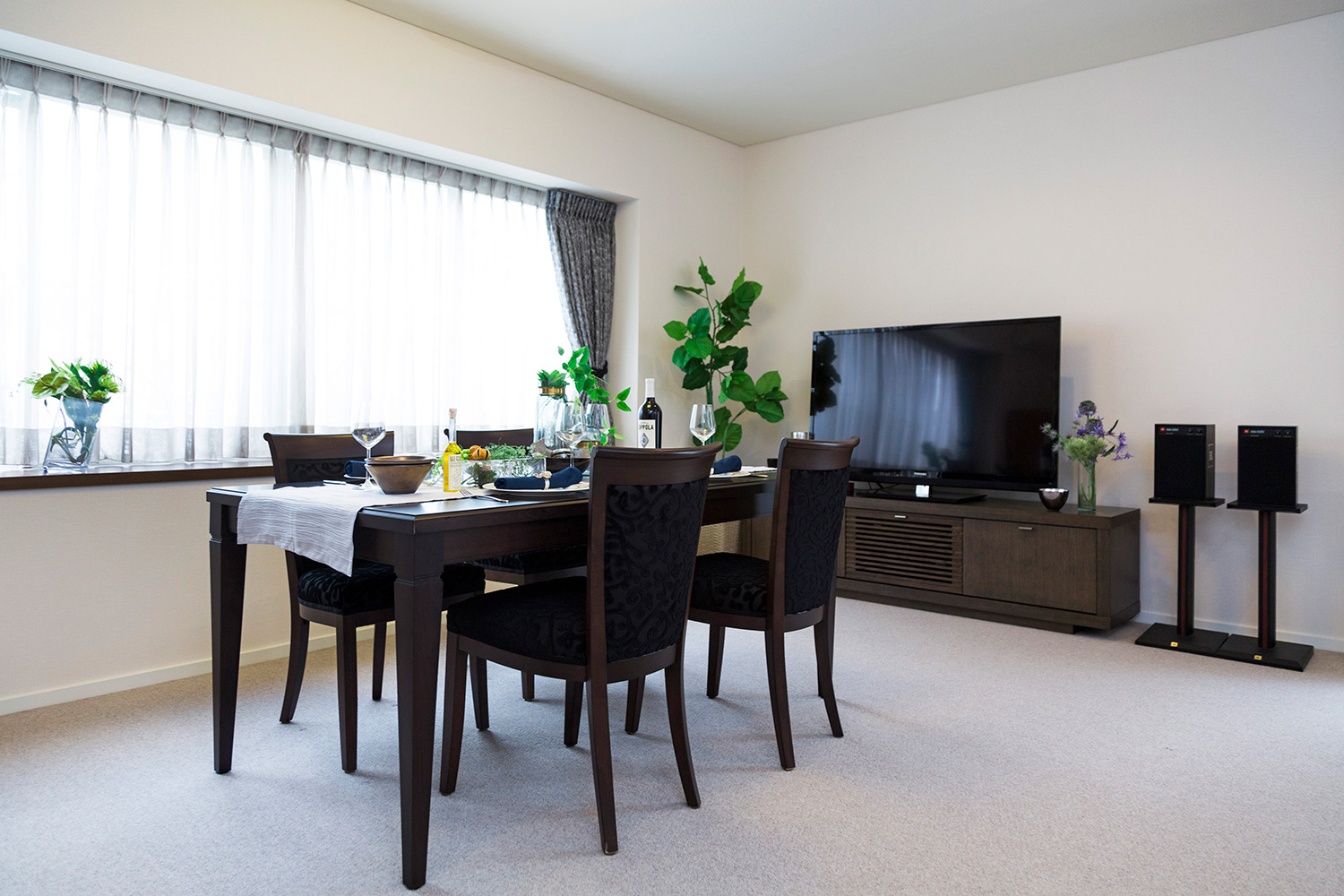 Not too classic, our interior coordination with modern
In addition to this "design concept," I thought about choosing each piece of furniture and interior decoration to be well suited to their lifestyle, particularly in terms of functionality. For example, the lighting above the dining table where the customer always works was originally an incandescent lamp, so we used lighting that produces a soft light that is suitable for working.
━━ I see, the balance between design and functionally helps to create "a space with pleasant music." Could you tell us a bit more about the choice and layout of furniture, other than lighting?
May's Interior decorator:When I had a conversation with the customer, he told me that he often listens to music on good-quality audio equipment and works with his laptop at the dining table, so I designed the layout centered on the dining table. The dining table they were using before was 1600 mm in size, which was too big for two people, so we chose one that is slightly smaller. In addition, the placement of the dining table made the television easy to see, and a shelf was put beside it so that books and documents could be stored neatly. When I visited the house, I thought that storage furniture was needed because a lot of documents and books were piled up throughout the room. Incidentally, this open shelf can also be used as somewhere for "storing for show," displaying accessories and small items.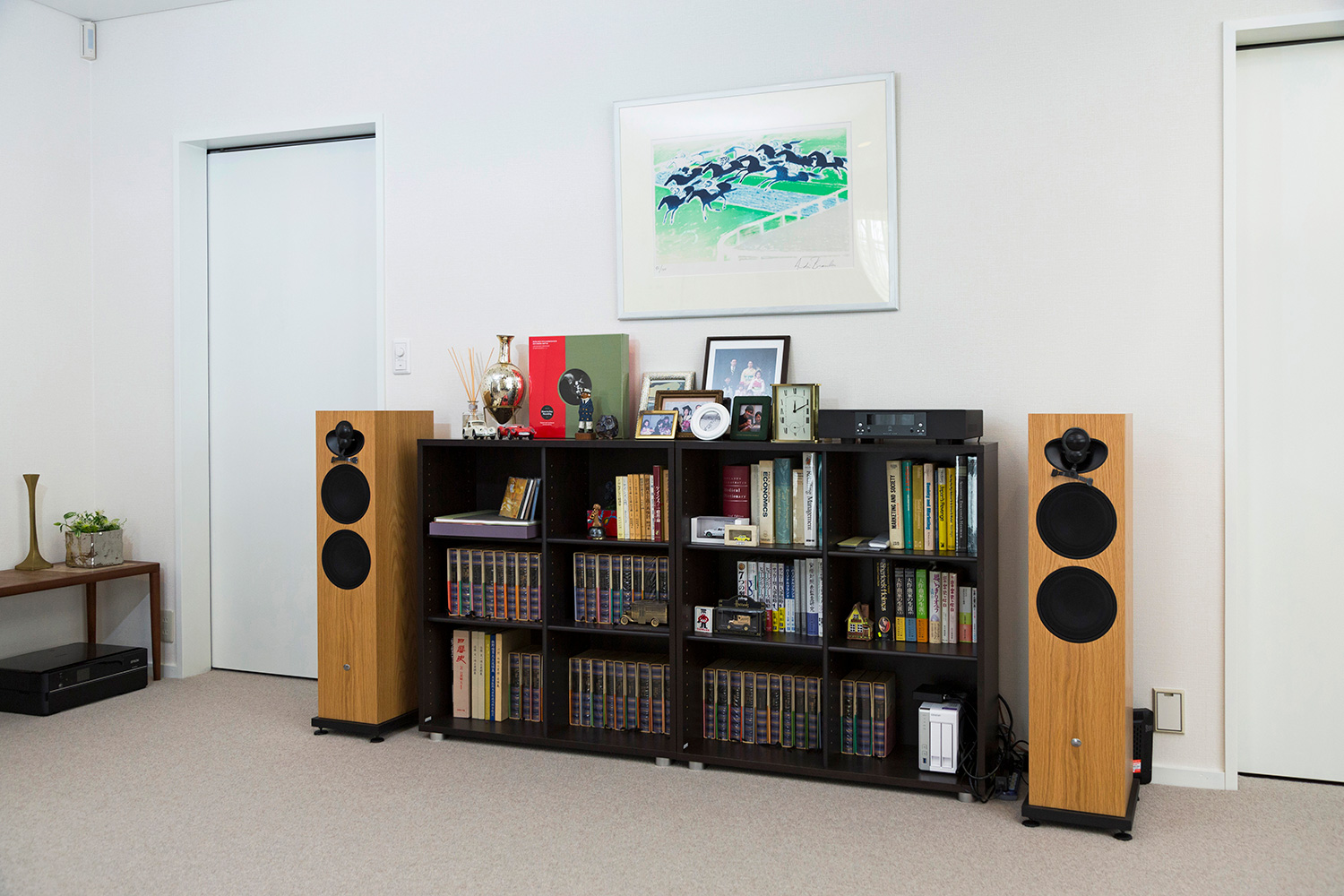 Audio equipment and "storing for show" open shelf creating "a space with pleasant music"
Moreover, I placed a one-seat sofa in a position where they can see the TV, so that his wife could relax in the living room. Since this place is in the center of the space, we chose a sofa with a variable backrest, so that there is no oppressive feeling in the whole room.
━━ I can see some accentuating colors in the patterns of the cushions on the sofa and of the curtains as well as in the entire space. What did you pay attention to in terms of the color scheme?
May's Interior decorator: First of all, I focused on their existing art, which was a lithograph of a horse running in a meadow, with white and yellowish green as the basis. I then chose a white color scheme for the cushions on the one-seat sofa, in combination with green or navy accessories and small glass items with a cool feeling in preparation for the coming summer.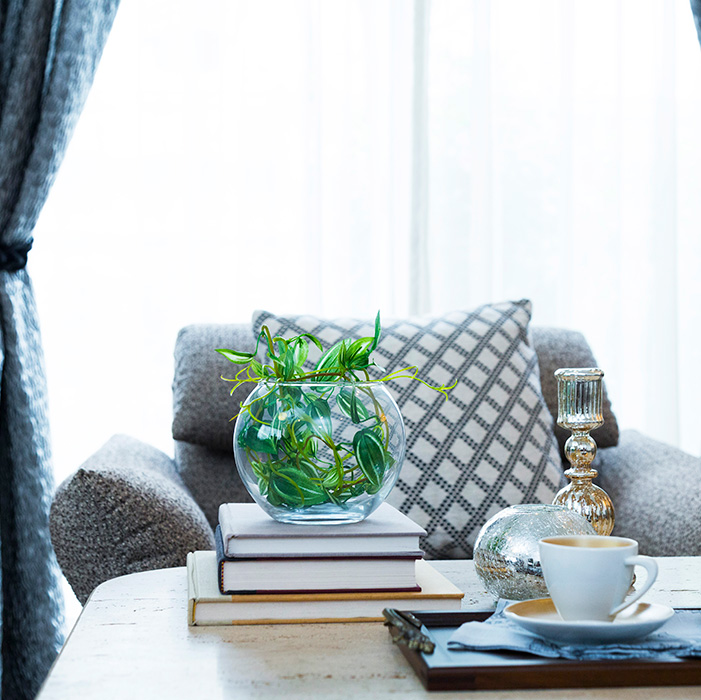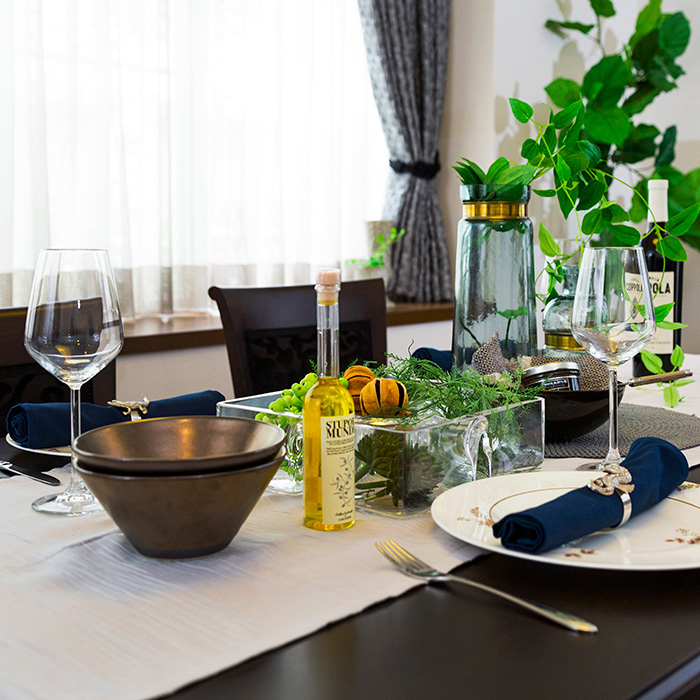 In addition, the dining chair is based on black, which is widely accepted by men. The backrest has a flower pattern, and the fabric with this pattern can be seen from both the front and back of the backrest. The space is accentuated through the use of embossed chair fabric that matches the pattern of the curtains, in addition to the luxury of black.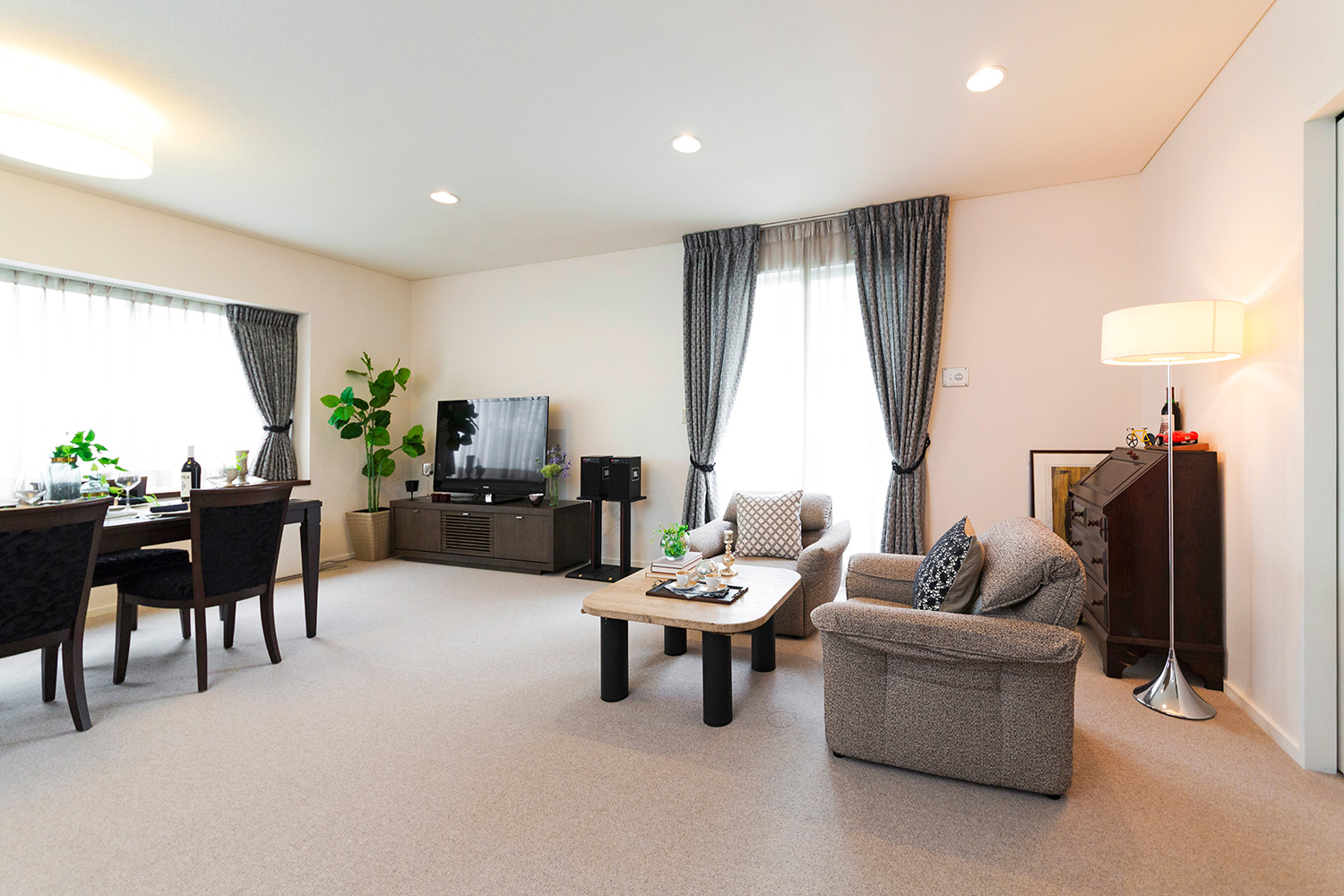 Coordinating the pattern of the cushions on the sofa and of the curtains
Feedback on using May's service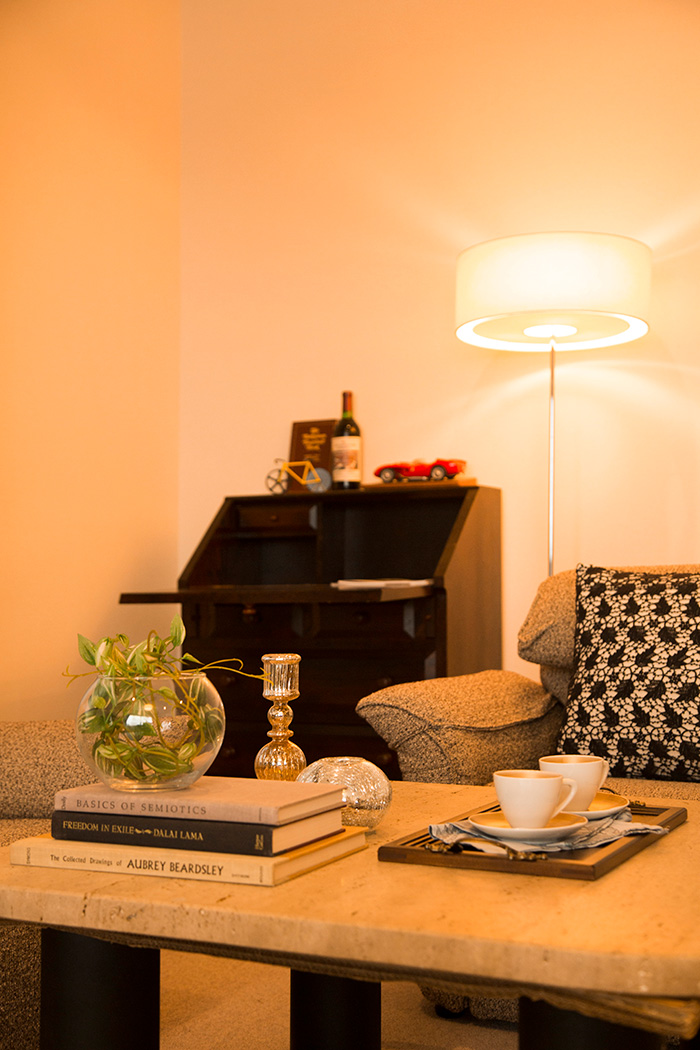 ━━ Please tell us how you felt about using May's interior coordination service.
Mr. O.S.:I'm very pleased with their professional proposal, which also satisfied my wish of matching with my existing furniture. I have several other houses but haven't been able to buy a range of furniture, even though I'm always thinking about it, so I'm considering using their service again for those houses.
━━ Did you also use the trade-in service this time?
Mr. O.S.:Yes, we did. I was also pleased that the pieces of furniture that were in use but not needed any more were eligible for the trade-in service. Disposing of furniture entails a collection procedure for bulky waste, plus a disposal fee, etc., and even if you sell it to a recycling shop, etc., you will only get a small amount of money. This time, they purchased my unnecessary furniture on the basis of replacing it, so I think that I had a good deal on buying a range of furniture without any extra effort or expense.